Apple has posted the new 2.1 firmware update for 2G and 3G iPhones.Apple CEO Steve Jobs promised that the new iPhone firmware will fix some of the device's most egregious issues, including call drops and truncated battery life. The 2.1 firmware will also improve the accuracy of the 3G signal display. Users should notice performance enhancements as well, from better responsiveness in the text messaging application and contacts to a significantly shorter time to backup the device when syncing with iTunes.


Here's the lowdown on some of what the 2.1 firmware fixes, according to Apple:
Decrease in call set-up failures and dropped calls
Significantly better battery life for most users
Dramatically reduced time to backup to iTunes
Improved email reliability, notably fetching email from POP and Exchange accounts
Faster installation of 3rd party applications
Fixed bugs causing hangs and crashes for users with lots of third party applications
Improved performance in text messaging
Faster loading and searching of contacts
Improved accuracy of the 3G signal strength display
Repeat alert up to two additional times for incoming text messages
Option to wipe data after ten failed passcode attempts
Genius playlist creation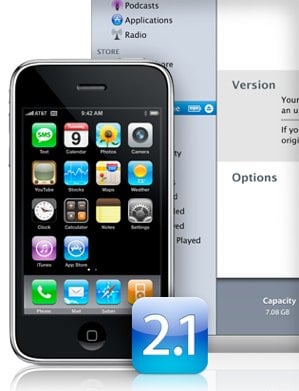 Another interesting additional is the nod towards better security with the option to erase the iPhone's data after ten failed attempts to enter the passcode. Apple has also closed the security loophole that allowed the iPhone Favorites to be accessed by bypassing the passcode.